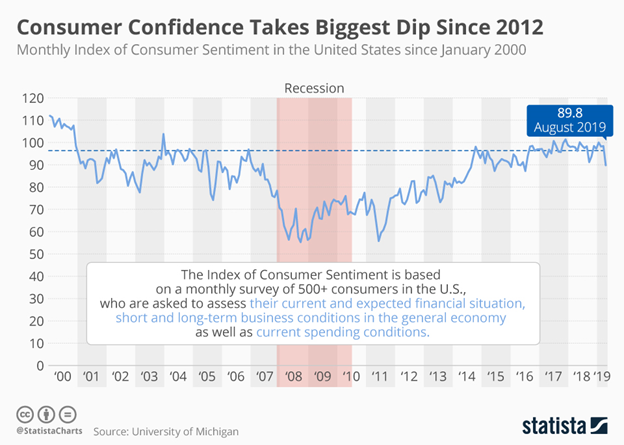 Preliminary figures recently published by the University of Michigan show that consumer confidence in the United States took its biggest monthly dip since December 2012, dropping 8.6 points from July's numbers.

Receding consumer confidence is reflective of consumer anxiety around U.S.-China trade tensions. Back in 2012, consumer sentiment shrank due to concerns around rising taxes and falling government spending. Richard Curtin, an economist and the Director of Surveys at the University of Michigan, said that: "The August data indicate that the erosion of consumer confidence due to tariff policies is now well under way."

Of the people sourced, one in three brought up negative references to tariffs unprompted by interviewers. Those people were more likely to expect rising unemployment, smaller gains in household income, and higher inflation within the next year.

Despite the setback, confidence remains high overall, as the following chart, dating back to January 2000, shows. After a brief worsening of consumer sentiment due to the shutdown in January, confidence was promptly restored, bolstered by rising incomes, low inflation, plentiful jobs, and low unemployment. The importance of consumer optimism and confidence is widely recognized, as high confidence typically boosts private consumption, a key driver of economic growth.
Important Disclosures
All information is believed to be from reliable sources; however LPL Financial makes no representation as to its completeness or accuracy.
The opinions voiced in this material are for general information only and are not intended to provide specific advice or recommendations for any individual.